MAOMA ART
2021 AUGUST
by Sarah Lane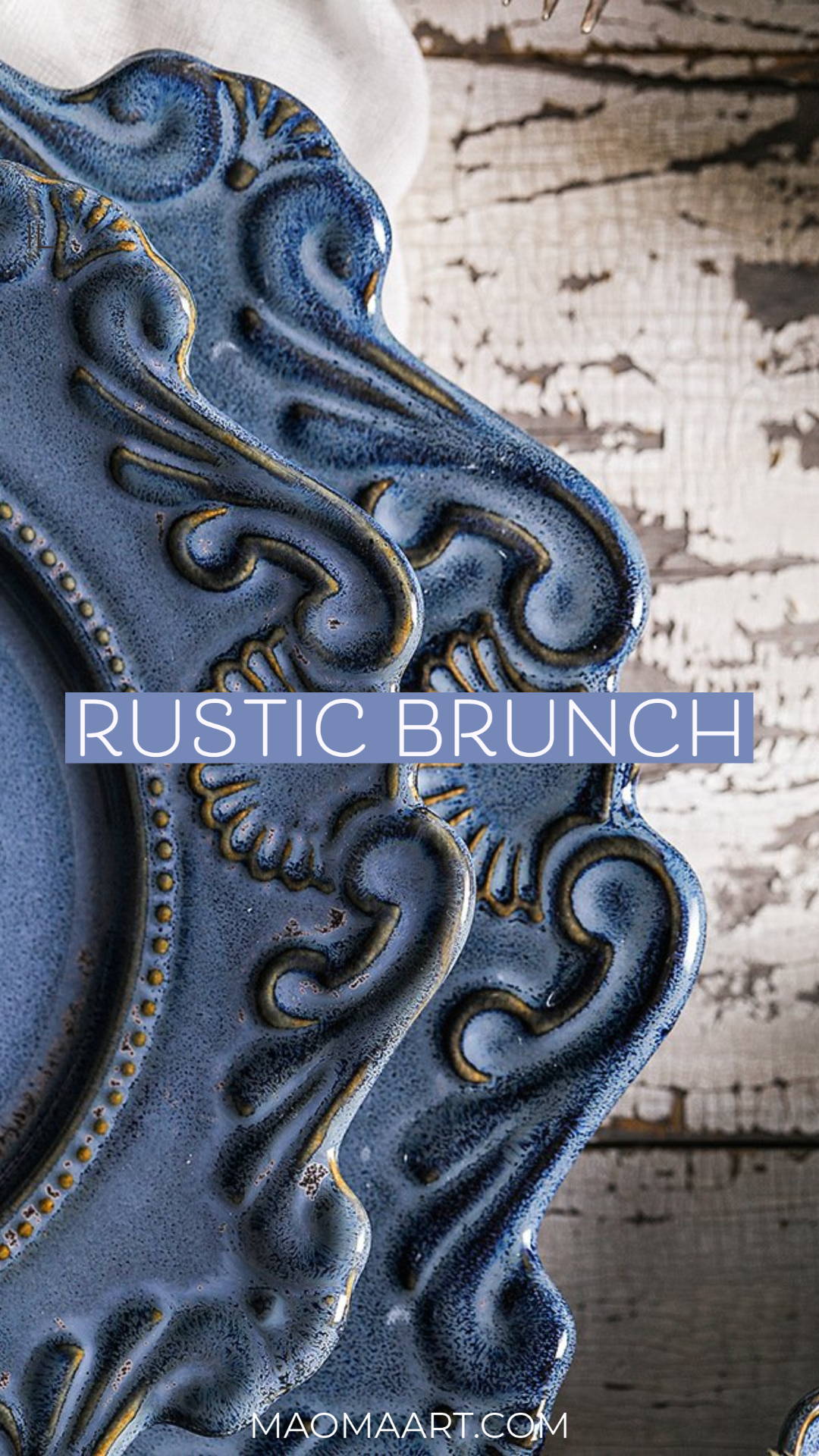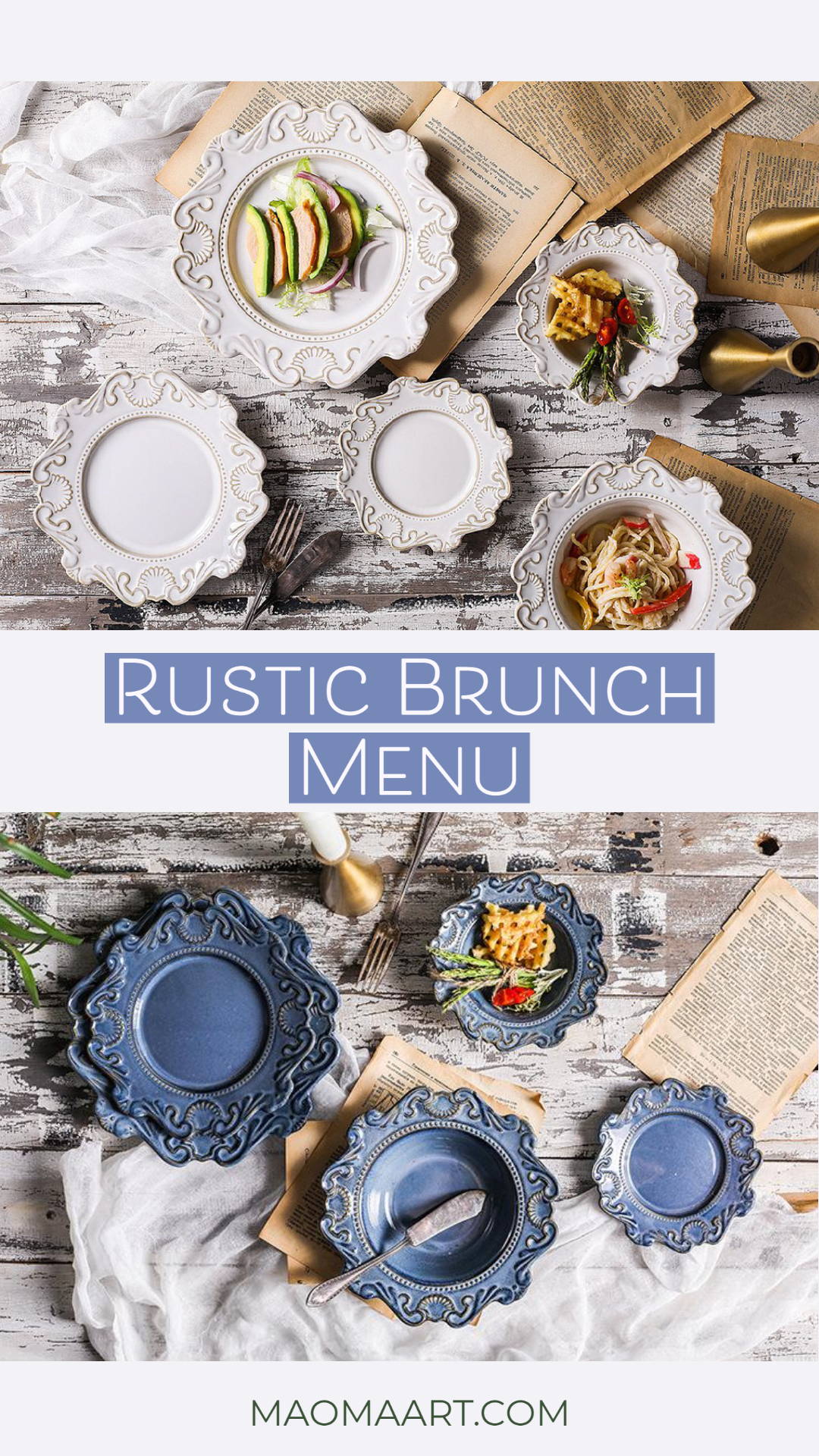 Our favorite recipes for an easy, delicious healthy rustic inspired Brunch Menu. You can combine the menu as we presented, or try whichever recipe you like most.
Rustic tablesetting are a gorgeous and one of my favorite styles for table styling. For the table setting. To create a truly rustic style, we need to add and combine textures. For me, that is what rustic is all about, creating a truly unique style with what you already have. We chose to not add a tablecloth or place mat, but a simple tule table runner, this way the texture of the table is showing, and that rustic wood is all we are here to see. To stay with the earth tones, we chose a blue and white beautiful floral embossed ceramic plates. We wanted to create a modern out view on rustic, so we added some chic gold elements such as the cutlery and enhancing those details we add a simple gold metallic candleholder to go with. For the glassware, we stayed simple with a clear blue sheer engraved glass and since it's a brunch champagne flute for the mimosas.
The Rustic Brunch Menu we selected, to start with Avocado Chicken (tofu) Recipe, This light delicious meal can be also prepared with turkey or tofu. It's the perfect light dish for a rustic brunch. The simple combination of the chicken with the freshness of the avocado, create a truly country rustic style meal.  
  The waffle hash browns are probably one of my favorite addition to breakfast and brunch. The shape and crunchiness of a waffle with the crispy and delicious side of the hashbrowns together is an amazing combination. The potatoes on this dish compliments our rustic inspiration, and I decided to accompany this dish with sun dried tomatoes.  I suggest to them accompany the Waffle hashbrowns with the asparagus and lemon salad, this simple easy salad is a delicious combination of textures with the beautiful surprise of the lemon. For me, this dish is the perfect example of a rustic meal, the raw of the asparagus combined with the freshness of the lemon is amazing. A couple of toast with our orange peach marmalade.
To drink, a brunch is incomplete without a mimosa, so I suggest accompanying this menu with a mimosa and our Lavender Coco Latte Recipe.
And Bon appétit enjoy a delicious rustic inspired brunch, create the whole menu, or try out the recipes you like the most, share it with your friends and tell us what you think. Enjoy!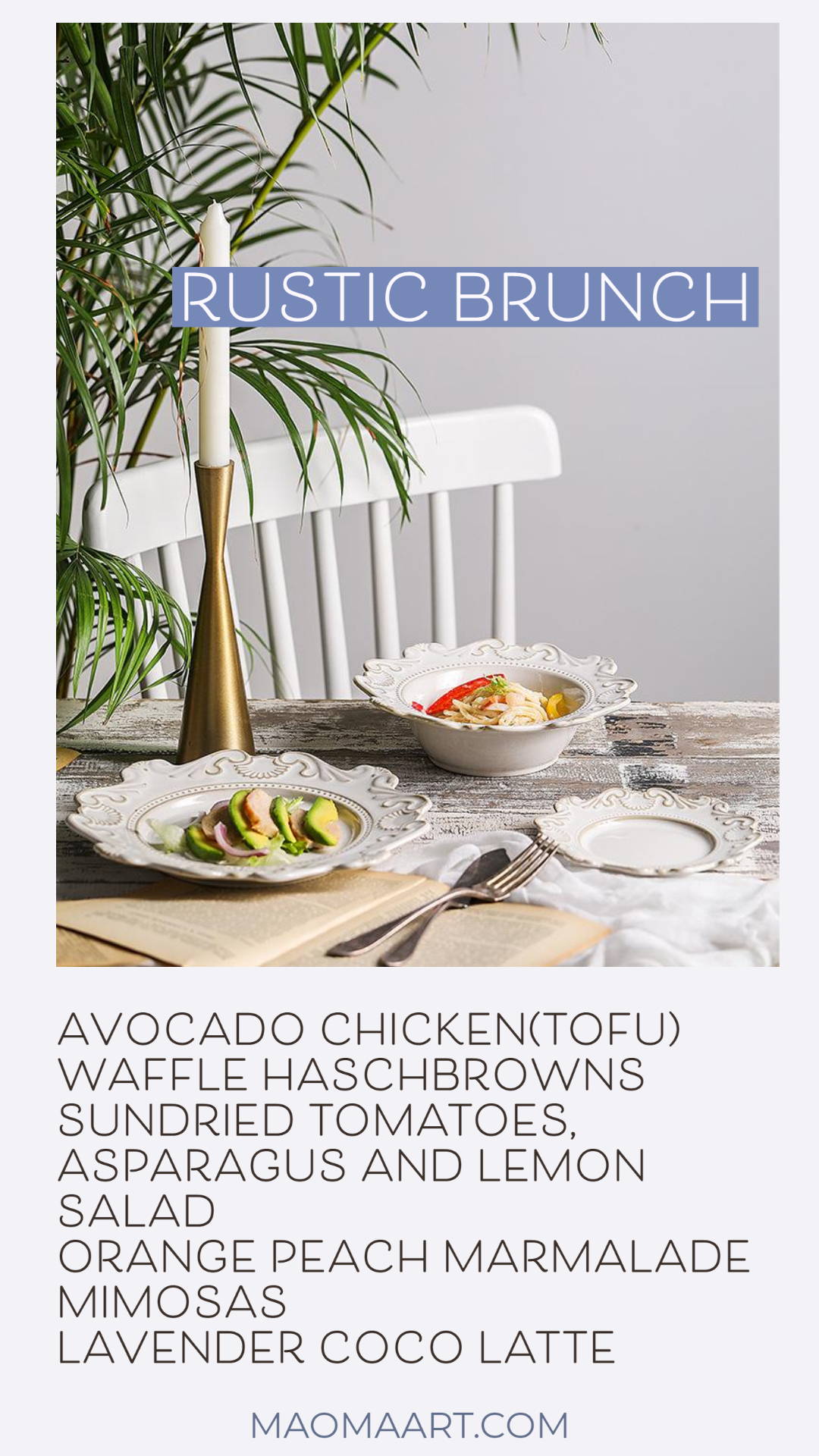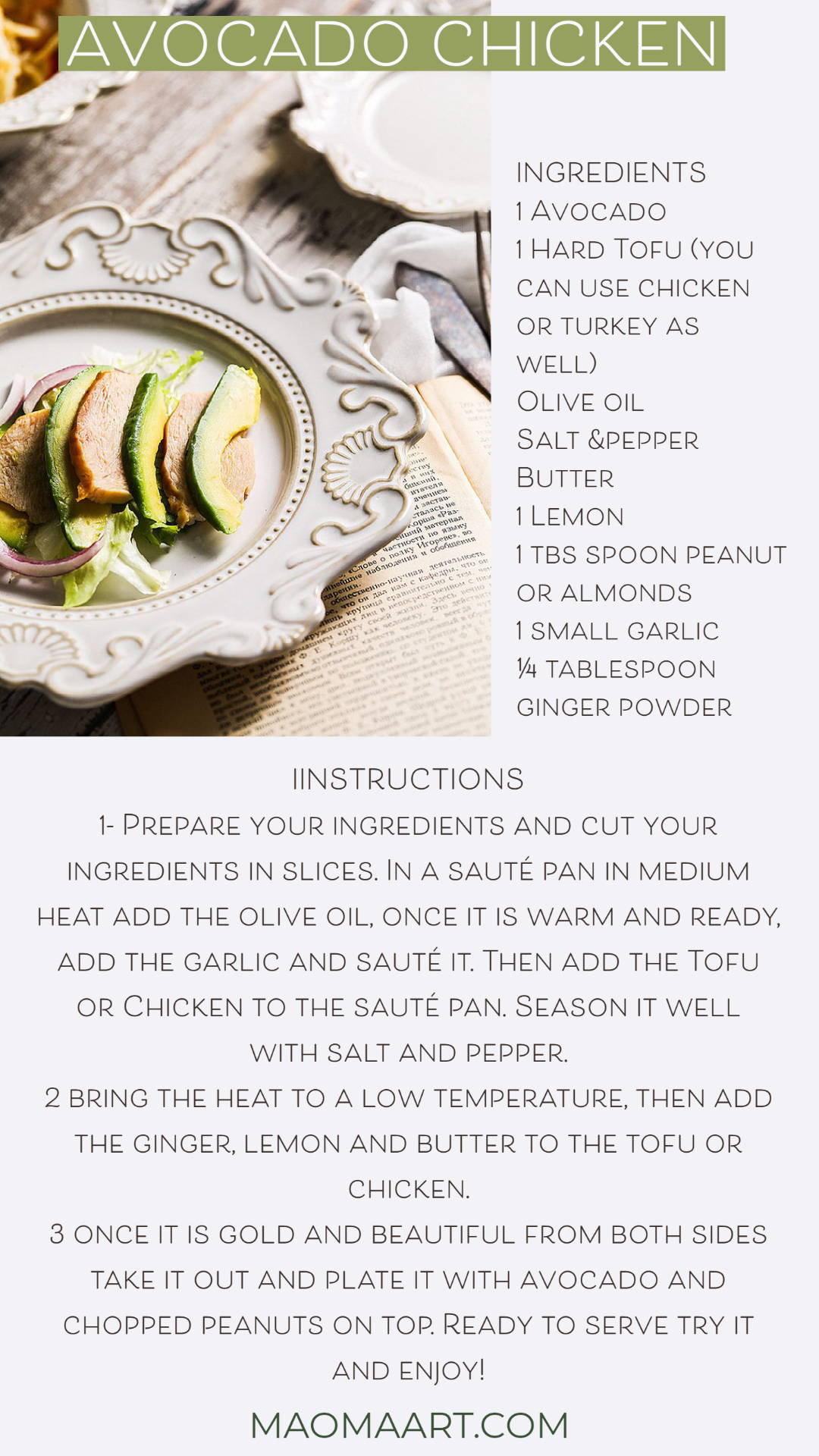 AVOCADO CHICKEN (TOFU)
INGREDIENTS
1 Avocado
1 Hard Tofu (you can use chicken or turkey as well)
Olive oil
Salt & pepper
Butter
1 Lemon
1 tbs spoon peanut or almonds
1 small garlic
¼ tablespoon ginger powder
INSTRUCTIONS
Prepare your ingredients and cut your ingredients in slices. In a sauté pan in medium heat add the olive oil, once it is warm and ready, add the garlic and sauté it. Then add the Tofu or Chicken to the sauté pan. Season it well with salt and pepper.
2 bring the heat to a low temperature, then add the ginger, lemon and butter to the tofu or chicken.
3 once it is gold and beautiful from both sides take it out and plate it with avocado and chopped peanuts on top. Ready to serve, try it and enjoy!
WAFFLE HASCHBROWNS
INGREDIENTS
1 potato
Salt
1 small egg
Milk
¼ Cup All-purpose flour
3 spoons Breadcrumbs powder
INSTRUCTIONS
1-Slice the potato using a cheese grater, put a pinch of salt in it, mix, and put in a strainer on top of a bowl to rest. This will take a lot of the water out of the potato, making the waffle hash browns crunchy and delicious.
2 in a kitchen mixing bowl put the egg, milk and olive oil, mix it all well (add salt or pepper to liking)
Add the flour and breadcrumbs powder to the potatoes and mix it well.
Add the potatoes to the egg milk bowl and mix well.
In a waffle maker but oil spray on top and add a spoon of the mix, close and let it cook.
Once it's ready, repeat till finish, then serve and enjoy!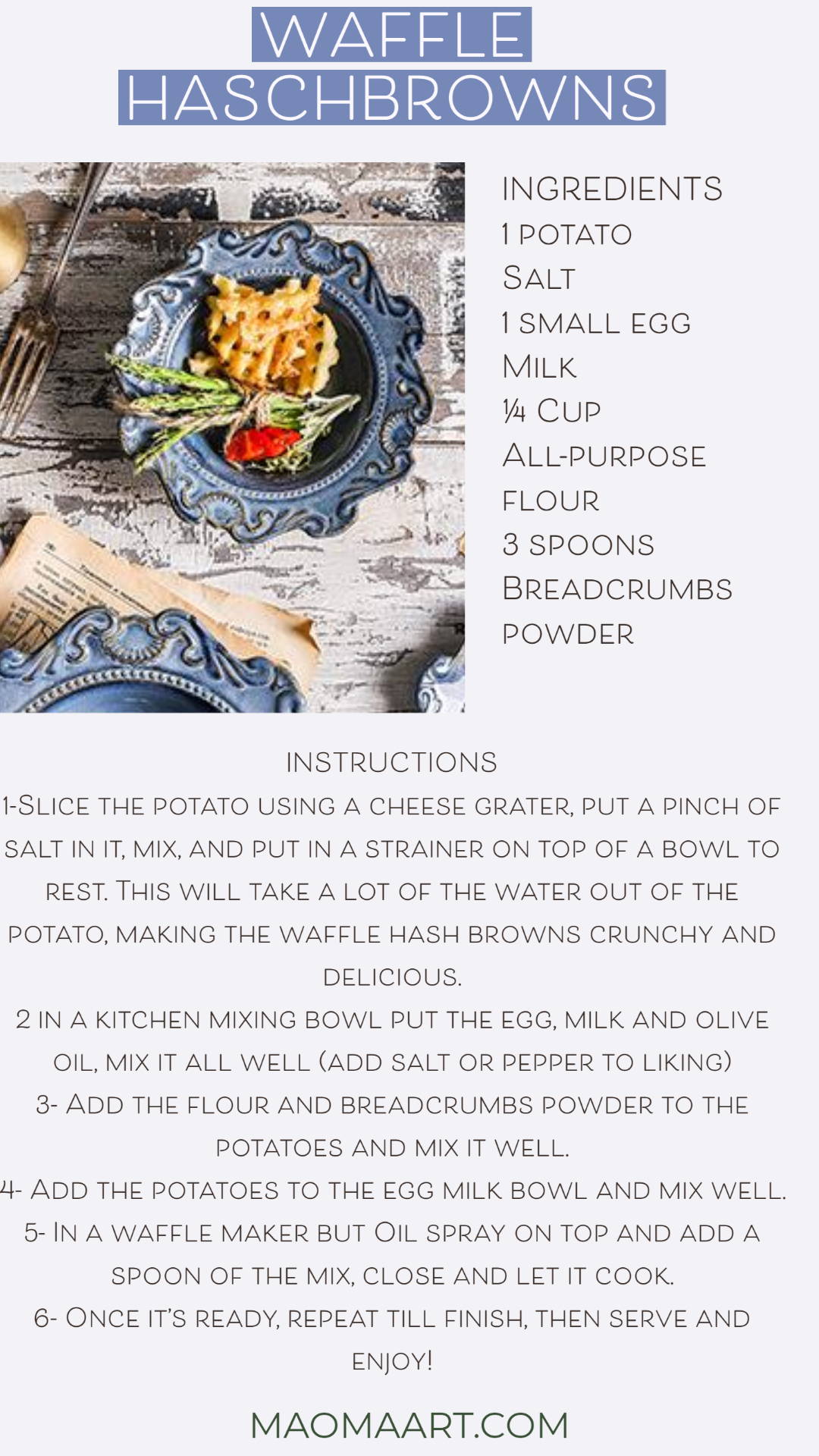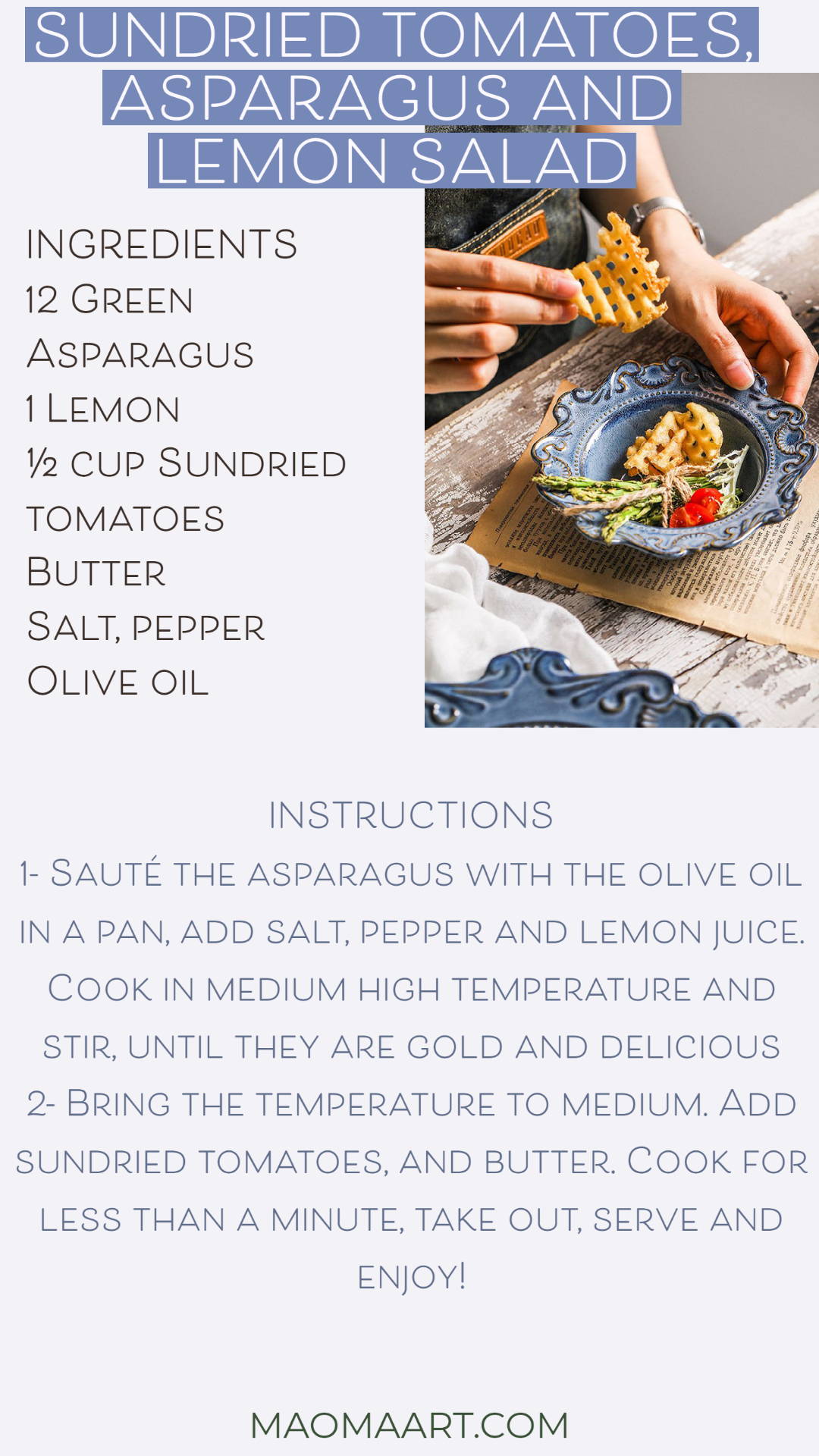 SUN DRIED TOMATOES, ASPARAGUS AND LEMON SALAD
INGREDIENTS
12 Green Asparagus
1 Lemon
½ cup Sun dried tomatoes
Butter
Salt, pepper
Olive oil
INSTRUCTIONS
Sauté the asparagus with the olive oil in a pan, add salt, pepper and lemon juice. Cook in medium high temperature and stir, until they are gold and delicious
Bring the temperature to medium. Add sun dried tomatoes, and butter. Cook for less than a minute, take out, serve and enjoy!